Meet the future of wilderness travel
For too long, wilderness workers have had to sacrifice personal safety, job efficiency, environmental protection – even all three – to reach remote work site locations.
KXI's purpose-built Wildertec technology is a no-compromise solution to wilderness travel. From road to off-road to no-road, KXI Wildertec ensures safety, profitability & social responsibility.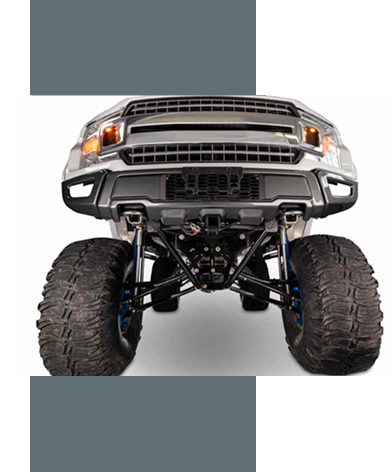 Your workers deserve great tools
KIQ X Industries (KXI) Wildertec is a talented group of individuals and partners committed to rethinking transportation to and from remote worksite in the wilderness.
Our proprietary innovations are a convergence of technology for four key systems. Built on top of heavy-duty fleet trucks, we elegantly incorporate suspension, steering, tire, and control systems tech to produce a cutting-edge, robust solution to the most common challenges of wilderness travel.
Learn more about
Wildertec Suspension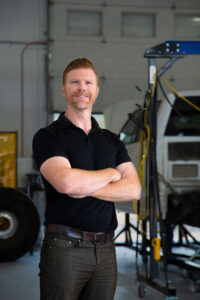 Chris is the President of KXI and charged with bringing the KXI technology to market. With over a decade of senior management experience, he specializes in strategic market development using industry, academia, and government collaboration. Supported by a background in research analysis and methodology, business development, and stakeholder engagement, Chris has a proven track record in the successful commercialization of various B2B products.

His unique charisma and boundless enthusiasm for meaningful business ventures have propelled KXI through the conceptual stage. Chris is currently focused on ensuring the optimal product-market fit in order to deliver quantum leaps in wilderness transportation ROI for KXI's key industry partners.

Chris is a father of two and, with his wife, operates a hobby farm with livestock, annual crops, and a growing food forest.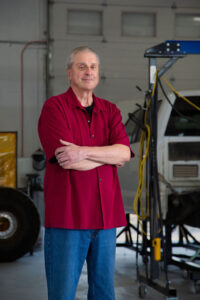 Director; CEO and President Kelso Technologies
James Rik Bond is the President and CEO of Kelso Technologies (the parent company of KXI). Kelso designs and produces transportation components for rail, trucking, and wilderness access. The company built its reputation as a reliable supplier of high-performance rail tank-car equipment for the safe transportation of commodities. Kelso products are specifically designed to provide economic and operational advantages to customers while reducing the potential effects of human error and environmental harm.

Over the past 35 years he has served in advisory, consulting, executive management, director and corporate officer roles in numerous private and public companies conducting business in the technology, manufacturing and processing industries.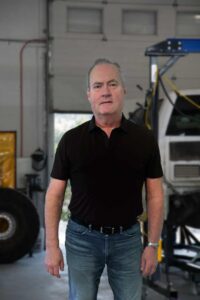 Chief Financial Officer Kelso Technologies
Mr. Lee is a graduate of the University of British Columbia with a Bachelor's degree in Commerce. In addition, he is a Certified Management Accountant having obtained his designation in 1991. Mr. Lee spent more than 25 years working for public accounting firms or for companies that trade on recognized stock exchanges. He has gained a wealth of experience in corporate finance, acquisitions and accounting while working with and for listed public companies trading in Canada as well as registered with the SEC in the United States.
Mr. Cass is the former COO of Whitewater West Industries, a manufacturer of waterpark and amusement park equipment, and was COO at Ballard Power Systems Ltd., a public company that develops and manufactures fuel cells for automotive and other markets.
Mr. Cass holds an MBA and BASc and is a member of the Association of Professional Engineers and Geoscientists of British Columbia (P.Eng).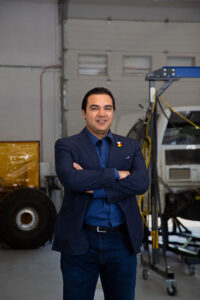 Mr. Busch's expertise is finance, business development and indigenous relations. Mr. Busch holds a Bachelor of Arts from the University of Manitoba, certificates from the Canadian Securities Institute and a post-graduate Certificate in Finance from Harvard University prior to commencing a Masters of Liberal Arts in Finance at Harvard. 

Mr. Busch is an expert in the field of indigenous engagement and relations and has spoken publicly, published articles and advised companies and organizations of all sizes on the subject.
Vector Truck Designs Inc. is an engineering consulting design company specializing in heavy truck systems and component design. Their team brings over 60 years of combined experience in truck design to the manufacturing industry for the likes of Freightliner and Western Star.
The Vector Team is leading the design and development of KXI's to-market prototype, guided by leading engineering principles and the strictest automotive compliance standards at both the federal and provincial levels.
Overland Training Canada is BC's leading professional off road driver training company, supporting vocational wilderness drivers in forestry, search & rescue and various other occupations.
In addition to the development of KXI's customer training program, Overland Training provides KXI with driver support, industry knowledge and test drivers for our most rigorous wilderness engineering testing.
Vernon Search & Rescue Group Society ("VSAR") is a volunteer, non-profit charitable Society, which has provided Search and Rescue services to the North Okanagan, a region in B.C.'s interior, since 1960. VSAR's management team boasts over 30 years of field experience, including training on all forms of wilderness transportation. KXI has partnered with VSAR as another exhaustive testing program to ensure that the technology performs flawlessly when it matters the most.
Thompson Rivers University
As part of our commitment to environmental sustainability, KXI Wildertec is partnering with Thompson Rivers University to create the "gold standard" for wilderness driving.
Led by Dr. Lauchlan Fraser Phd and Dr. Laura Weber Plough PhD we are studying the effects of off-road vehicle (ORV) activities on plant and soil properties in Canadian ecosystems.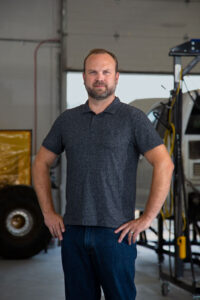 Mechanical Project Manager
Born with a proverbial "steel wrench in his mouth" Mitch has been wrenching since he was 4 years old.
Post-secondary led him to become a Mechanical Engineering Technologist where his early career focused on composite manufacturing for automotive, production engineering, 3D CAD, and ISO quality assurance.
His success and work ethic led him into operations management to oversee quality, production, purchasing, and engineering of a large regional manufacturer. Here he worked with management to ensure on-time and on-budget delivery of complex products. He was then deployed to set up operations plants in Canada, United States, and Mexico.
Mitch has a comprehensive understanding of the manufacturing lifecycle including marketing, sales, project management, product/project design, budgets, and timelines. He can build the drawings, turn the wrench, and sell the whole thing to customers.
As a collaborator, he's committed to clarity and conciseness (with a flare for managing the unexpected) as he pursues absolute excellence in the mechanical operations of KXI Wildertec.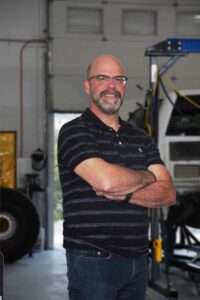 Control Systems Project Manager
Uncompromised in his pursuit of satisfied customers, Brent worked with Western Star / Freightliner Trucks in dealer parts sales and technical support for dealers. He learned each component of each vehicle in detail in order to effectively troubleshoot key mechanical, electrical, and parts-related issues. Whether supporting the safe operation of a custom fleet at a mining operation in Indonesia or keeping long-haul truckers on the road in the American midwest, Brent's ability to trouble-shoot quickly and creatively source solutions were critical for profitability through every level of the company. Because of the uniqueness of the applications in Western Star trucks, he liaised with the core engineering team to create custom, creative solutions.
He has an entrepreneurial bent and founded a bespoke motorcycle manufacturing and service company. His business model was to mine the psyche of the client to build the perfect motorcycle. Requiring intentional discussions and further creative problem solving, he created a community of riders and a global fan base of his customs that persists to this day.
He has a rare commitment to user experience whether coming into his store, climbing on the bike itself or now climbing into a KXI wilderness accessibility vehicle, Brent pours over every detail to ensure delight.
Committed to uncompromised excellence.
Built for wilderness terrain, the Wildertec™ cargo trailer can carry up to 3,500 lbs per axle while minimizing ground disturbance.
Wildertec™ Body Panels are comprised of a 3-layer Kevlar® weave encased in aircraft-grade epoxy resin. 
True every-terrain-capability using triple-sidewall bias tire design for maximum traction with minimal impact on fragile terrain, snow, ice, and mud while creating less ground pressure than a walking adult.

Accessibility. Like Never Before.
Go where few others can. Learn how Wildertec products enable your fleet to reach places usually only accessible by helicopter – at a fraction of the cost and minimal environmental impact.

Safe. Tested. Sustainable.
Discover how Wildertec products offer government employees more safety and control even in remote locations while eliminating redundant ATV vehicle costs.

Indigenous & Remote Communities
Your partner on the land.
KIQ X Industries (KXI) designs our products for the safety and efficiency of the guardians of the wilderness. Learn about our environmental and public service advantages.
KXI is proud to partner with indigenous and remote communities across North America.
KIQ X Industries acknowledges that its headquarters is situated on the traditional unceded territory of the Syilx/Okanagan people.
Environmental Sustainability
As we understand that robust and dependable transportation in remote areas can be life-giving, KXI has taken precautions to ensure our vehicles, their accessories, and their use are as sustainable as possible.
KXI is at the early stages of developing an Indigenous Strategy to support British Columbia's Declaration on the Rights of Indigenous Peoples, Canada's government's Truth and Reconciliation Commission "Calls to Action", and the United Nations Declaration on the Rights of Indigenous Peoples.
Employee Health & Welfare
KXI employees are our most valuable resource. We endeavour to create an environment built on mutual respect that is free from discrimination, violence or harassment.
Our economy requires the movement of people and goods. At KXI, we are committed to ensuring wilderness workers and their equipment get to their destination as safely and efficiently as possible.